DIS.IN.FX® Surface Protection
Surface Protection
Powered by DIS.IN.FX®

Nancy
DIS.IN.FX-PERT, standing by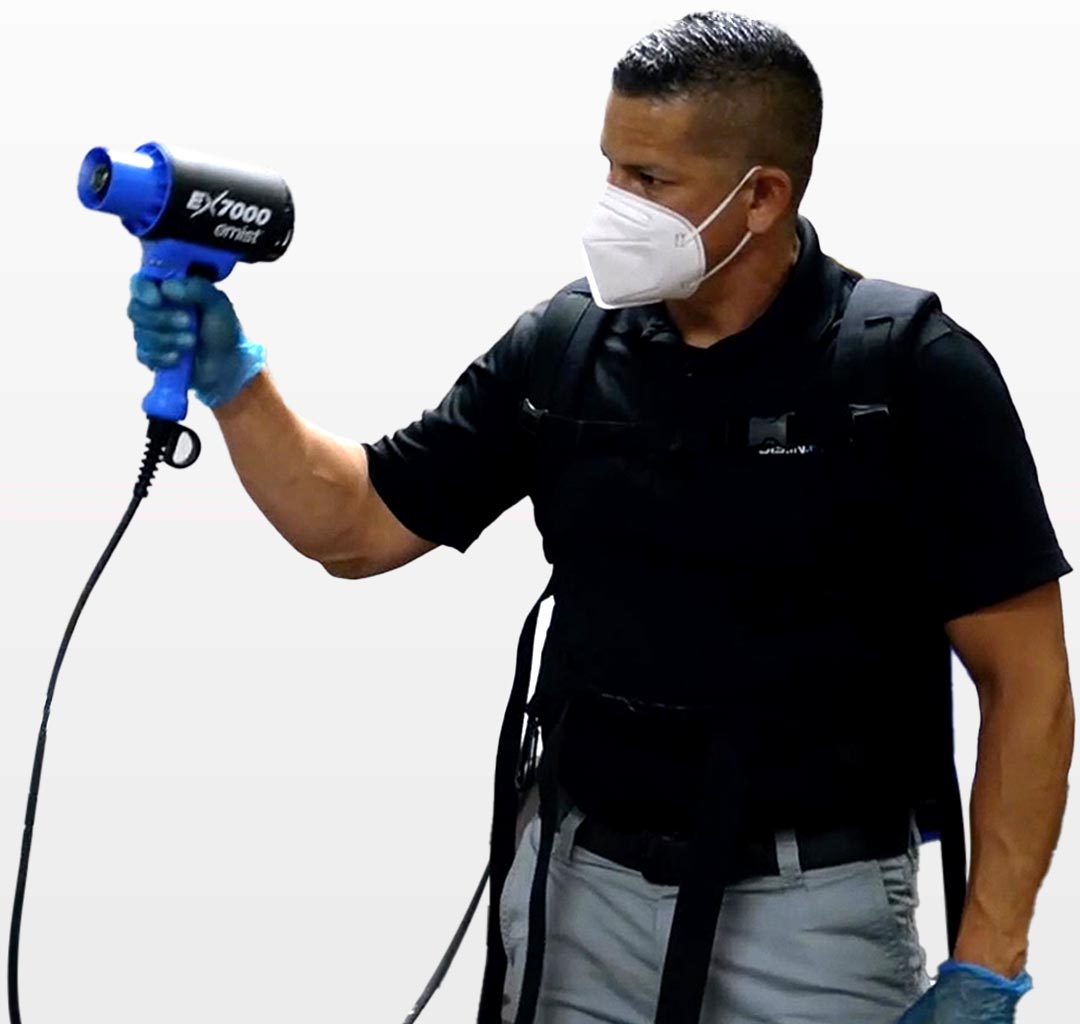 DIS.IN.FX Essential Solutions Surface Protection provides facilities with top-down surface protection. Our Germ Experts consult with you to reduce infection and illness, so your facility can be more productive.
Services Include
Application of hospital-grade disinfectant and antimicrobial treatment
Surface testing and reporting
Certification of treatment
Free consultation of sanitation best practices
Dedicated account manager
Portal login for personal account management
Marketing materials to showcase your efforts
DIS.COUNTS on DIS.IN.FX® products
Service Plans
Monthly
Quarterly
Emergency
One-time treatments
DFX Program FAQs
What is disinfection?
Disinfection reduces or eliminates harmful microorganisms from surfaces and objects, such as viruses, bacteria, and fungi.
What is an antimicrobial agent?
An antimicrobial agent is a long-lasting EPA-registered product that inhibits the growth of microbes on surfaces. Antimicrobial agents help reduce cross contamination, prevent odors, and help keep surfaces clean for an extended period
What does the DFX program consist of?
DIS.IN.FX conducts a 3-step treatment, testing, and certifying process to protect your whole facility.
Treat - Using various application methods; the treatment thoroughly applies EPA-registered hospital-grade disinfectants and antimicrobial agents. DIS.IN.FX treats the entire facility, including the outside door handles, keyboards, light switches, and all high touch points.
Test - Our trained technicians conduct ATP testing on surfaces before the treatment to establish a baseline and identify any hotspots or areas of concern. Once the application process is completed, they re-test the areas to ensure all levels are under the threshold. DIS.IN.FX Guarantees that all testing is below the threshold in the facility. Keeping the microbial count under the threshold helps prevent cross-contamination and the spread of illness.
DFX Certified – First, DIS.IN.FX completes the treatment. Then a certified technician tests the facility surfaces. Once all the test results come back under the threshold, this facility is considered DIS.IN.FX Certified for the month the treatment and testing were conducted.
What kind of products does DIS.IN.FX use?
DIS.IN.FX uses EPA-registered Hospital Grade Disinfectants that clean, disinfect, and deodorize in one step. In addition, DIS.INFX uses a long-lasting antimicrobial agent that inhibits the growth of odor-causing bacteria, mold, mildew, and algae on surfaces. Products are approved for use in homes, schools, hospitals, daycare centers, and other facilities.
How long does a disinfection treatment take?
The length of a disinfection treatment depends on the size of the space and the level of disinfection required. Most treatments can be completed in under a few hours.
Are the disinfectants used safe?
All products used are EPA-approved and safe when used according to the label instructions. However, it is essential to follow any safety guidelines provided by DIS.IN.FX.
What should I do to prepare for disinfection treatment?
You should remove all personal items and clutter from the areas to be treated. Further instructions may be provided in your custom proposal.
How often should I schedule disinfection services?
The frequency of disinfection services depends on the level of risk and foot traffic in the space. You may require daily or weekly disinfection services, while others may only need to be treated once or twice a month. Use our get a quote form to schedule your free site consultation.
What is ATP?
ATP is a molecule found in all living cells, and it is responsible for transferring and storing energy. ATP levels act as an indicator of whether your environment has been properly cleaned.
5-Star Reviews
of our Air Protection Services

"Dis-In-FX service gives us the peace of mind that our children and members are safe."
Concordia Lutheran School

"I love the peace of mind that DIS.IN.FX gives to my clients with their antimicrobial service."
CrossFit BR

"We have not had any skin infection issues since we started using DIS.IN.FX."
Gracie Barra Katy
"We have NEVER had a case of Staph unlike many gyms."
ChampionFit Gym

"We haven't had any 'bugs' go through our facility. I truly believe it is because of our combined efforts."
Little Treehouse Early Learning Center