DIS.IN.FX® The Trusted Choice for All Janitorial Services
Why settle for less? Choose DIS.IN.FX as your trusted janitorial service provider.

Nancy
DIS.IN.FX®-pert, standing by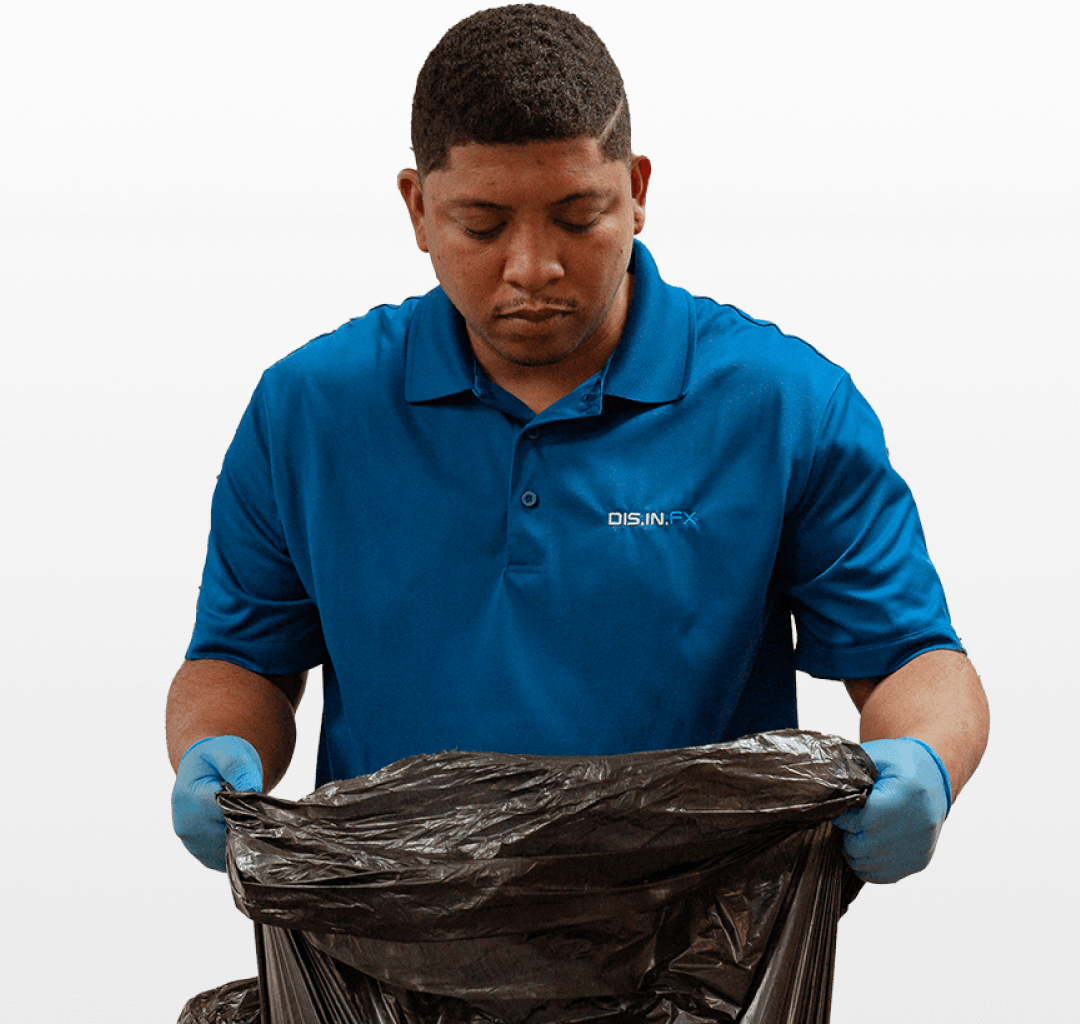 Are you a business owner or operator in need of a trusted janitorial service provider? Your search ends here with DIS.IN.FX.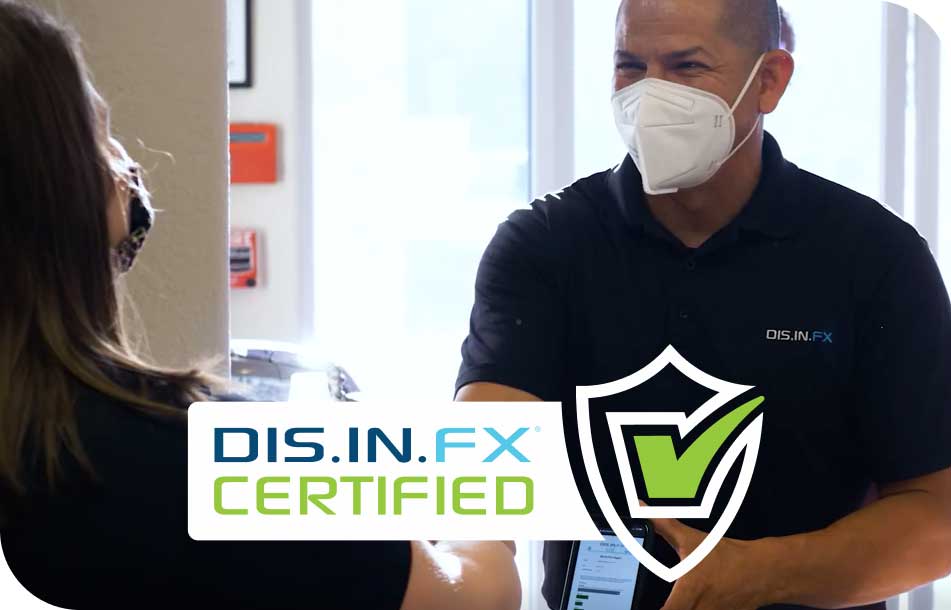 DIS.IN.FX® specializes in janitorial services and commercial cleaning, drawing from over a decade of experience to perfect the craft of delivering professional and dependable janitorial excellence.
Our origins as a disinfection company have woven scientific cleaning precision into our very fabric. (And yes, we remain masters of disinfection services, if we're getting into the nitty-gritty.)
This unique background equips us with the knowledge and capability to set a higher standard as your trusted janitorial service provider.
What sets DIS.IN.FX apart
from other janitorial service providers?
We know the areas we serve
Next, DIS.IN.FX-perts live and work in the communities they serve. From Texas to Louisiana, and down to Florida, our experts are well-acquainted with the nuances of each of our regional service areas, which equips us with the knowledge and expertise to ensure we deliver the absolute highest standard of service. Our trusted janitorial services mean your business—from floor to ceiling—remains spotless. And so does your reputation.
We're all about personal service
First, when you sign on as a DIS.IN.FX customer, an account manager is automatically assigned to your business. This person serves as the chief point-of-contact for all things DIS.IN.FX. If you have any questions or concerns at any point throughout the duration of your service, your account manager is just a phone call, text, or email away. We've found that our customers truly appreciate the personal service having a dedicated professional janitorial solutions account manager can provide. And we're happy to provide it.
We're just what you're looking for
Our cleaning services are tailored to address your facility's needs on a daily basis. Options within this service category include standard daily cleaning such as wiping down surfaces, removal and replacement of trash can liners, dusting, mopping, vacuuming, window cleaning, pressure washing, and more. Our reliable daily cleaning services will ensure your facility is ready to host students, clients, and visitors.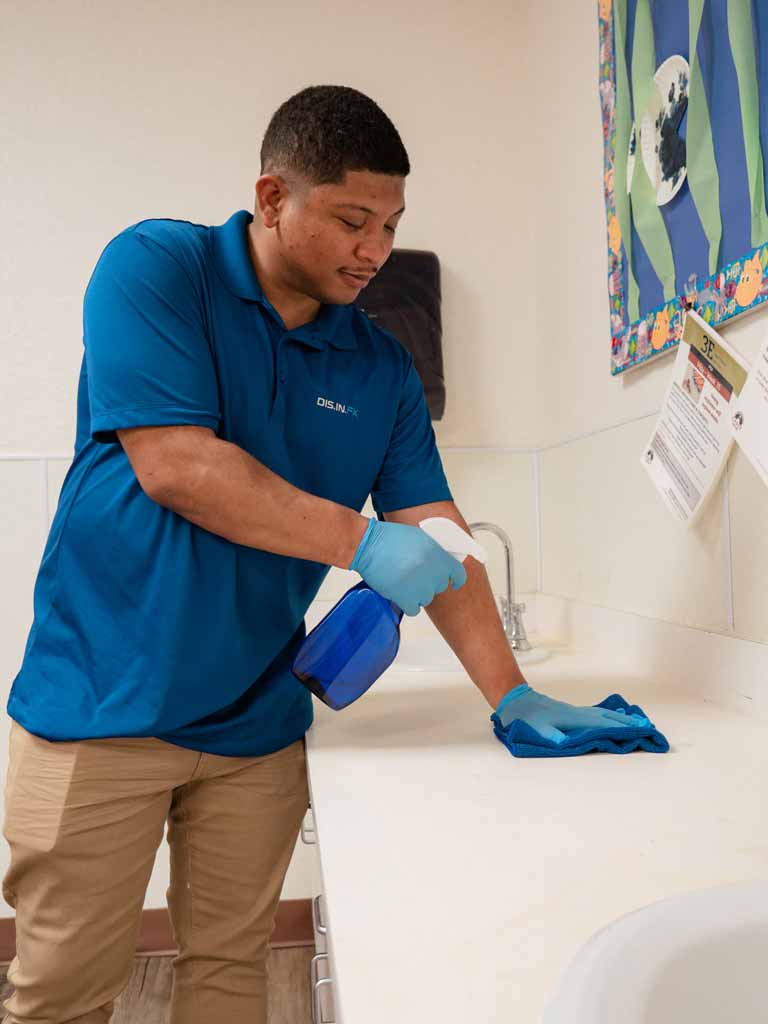 Why do our customers choose—and stick with—DIS.IN.FX?
The three words we hear most often from our loyal customers are: 'professional,' 'thorough,' and 'trustworthy.
We take pride in delivering five-star professional janitorial solutions that keep business owners and operators coming back, year after year.
Our promise to our customers:
Your dedicated janitorial service team will arrive punctually and in professional attire.
We will treat your facility with the utmost respect throughout the entire service.
We will remain attentive to your requirements before, during, and after your janitorial service.
If your facility doesn't meet your expectations, we will return promptly—before our next scheduled visit—and re-clean at no additional cost to you.
Reviews
Brighter Futures Learning Center
"LOVE this company and how hard they work! They are always going above and beyond. Super knowledgeable and very friendly. Customer service is top notch. We highly recommend DIS.IN.FX® to everyone."
Champions Cheerleading & Tumbling
"DIS.IN.FX® has been servicing our gym for 10 years. They are so professional and through every time they come to do treatments and swab test for level checks. We trust that DIS.IN.FX® is treating all of our surfaces with the utmost care and keeping our facility as germ free as possible."
Grace Place Learning Center
"DIS.IN.FX® has been treating our center for over 5 years now. Great service and products. I would definitely recommend them for you disinfecting needs."
"Jerry and his team are the best. Thank goodness that there is a company like DIS.IN.FX®. They are a professional company that works with our work schedule. We Love Them."
What kinds of problems
do we help solve?
"My janitorial service doesn't do a good job."
This one is pretty common.
Most janitorial service providers just kind of go through the motions of cleaning your business or facility.
Well not DIS.IN.FX. We hold ourselves and the work we do to a higher standard than your typical janitorial service provider. We clean countertops, floors, windows, and empty trash cans as if our lives depended on it.
"I can't get ahold of anyone."
Lack of communication will never be an issue with DIS.IN.FX.
As we mentioned earlier, you will have a dedicated account manager whose sole job is to ensure your satisfaction. If there is ever an issue with your service, all you have to do is reach out, and your account manager will ensure the issue is resolved in a timely and professional manner. Simply put, we don't quit until you would feel comfortable giving our janitorial solutions a five-star review.
"I don't know if I can trust my cleaning company in my facility."
With DIS.IN.FX, you can rest assured knowing that anyone from our company that enters your building has been thoroughly vetted and trained to treat the facility with the utmost care and respect.
We're not ones to rest on our laurels. Ongoing training and re-training is just a part of the deal for those on the DIS.IN.FX team.
"I need a customized cleaning plan."
This is one of our specialties.
The DIS.IN.FX janitorial services were specifically designed to be highly configurable for your business, no matter what business you're in. We know that not everyone has the same operating hours, and so we make our teams available at whatever times and frequencies work best for you and your business.
"I don't know what kind of chemicals are being used to clean my space."
DIS.IN.FX cleans using only hospital-grade, water-based cleaning solutions.
You and your employees can rest assured knowing all of the chemicals we use in the course of cleaning your space are delicate enough to be used in environments with highly sensitive and, in some cases, immuno-compromised individuals.
"I need a cleaning company that specializes in my type of facility."
DIS.IN.FX as been around for more than a decade fine-tuning our expertise in specialty environments, including: banks, credit unions, and financial institutions; car and auto dealerships; churches, mosques, synagogues, and religious temples; government buildings; gyms fitness centers, and health and wellness facilities; hotels and event venues; manufacturing facilities; military bases and training facilities, and more.
Trusted Janitorial Services
Cleaning Locations
Austin, TX
Baton Rouge, LA
Dallas, TX
Houston, TX
Miami, FL
New Orleans, LA
Orlando, FL
San Antonio, TX
Tampa, FL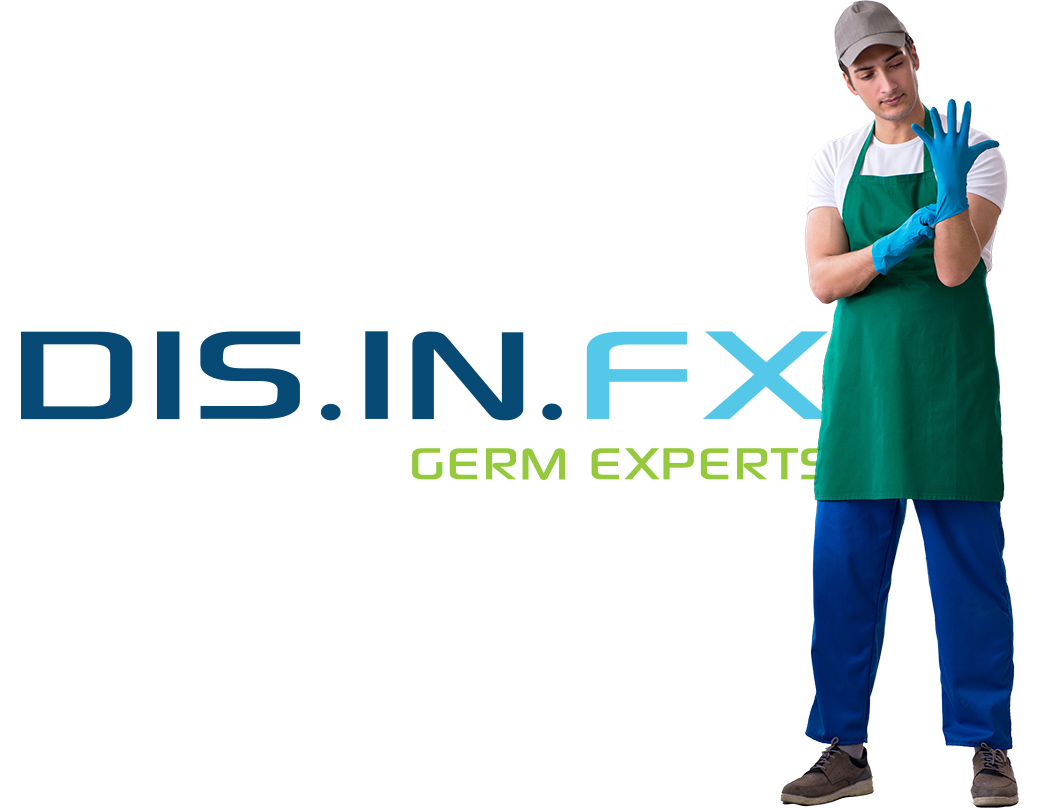 Ready to get started? Here's what happens next:
Give us a call, or contact us through our form. We'll get back to you, usually within 24 hours or 1 business day.
A DIS.IN.FX-pert will walk you through a quick half-hour consultation where we learn more about your specific needs. This includes exact address of your business, square footage, cleaning frequency, etc.
We'll prepare a quote and establish a cleaning schedule.
Let the cleaning begin! You, your employees, and your customers will start to feel safer, healthier, and more comfortable in your workspace than ever before.