San Antonio, TX Professional Commercial Cleaning & Janitorial Services
Professional janitorial services focused on protecting your people and productivity

Nancy
DIS.IN.FX-PERT, standing by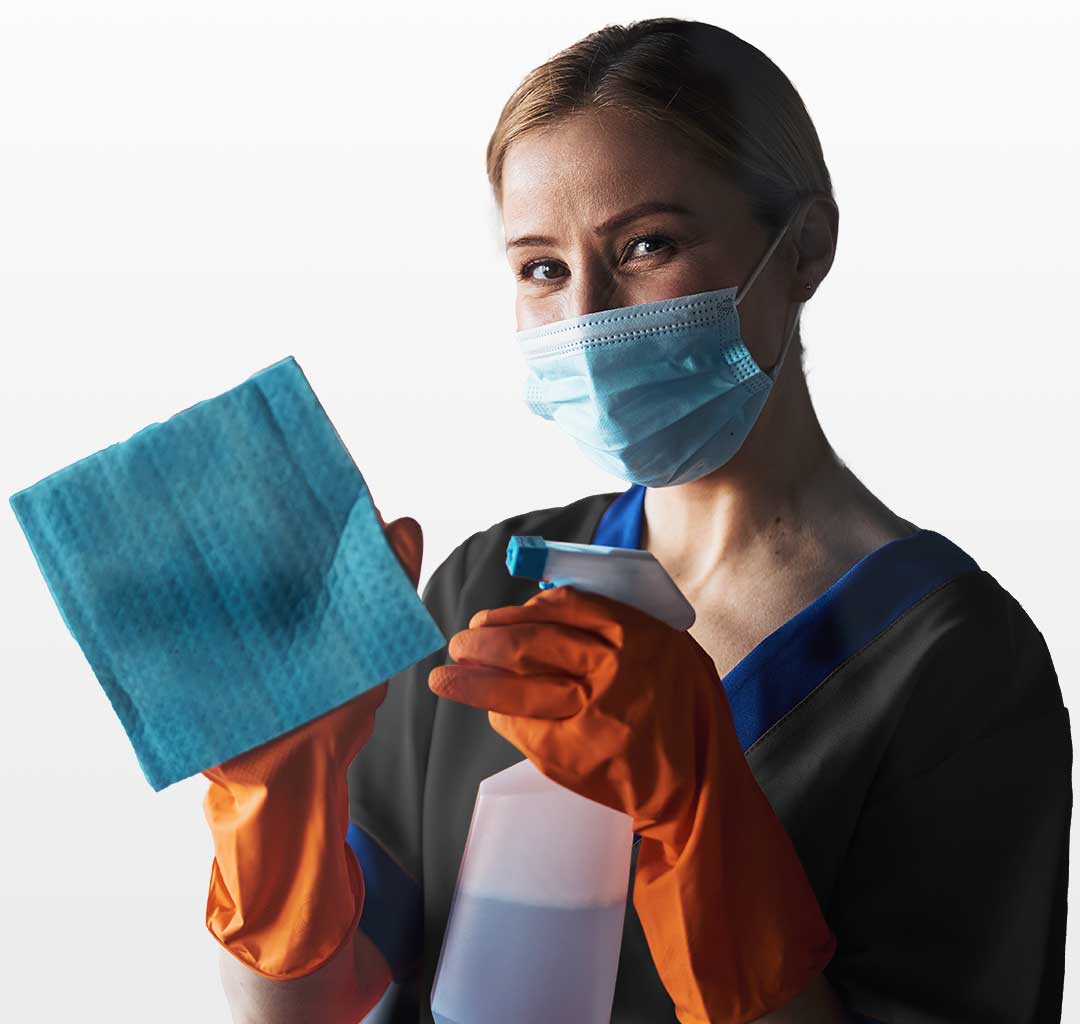 San Antonio business owners, need professional commercial cleaning & janitorial services? DIS.IN.FX® has you covered!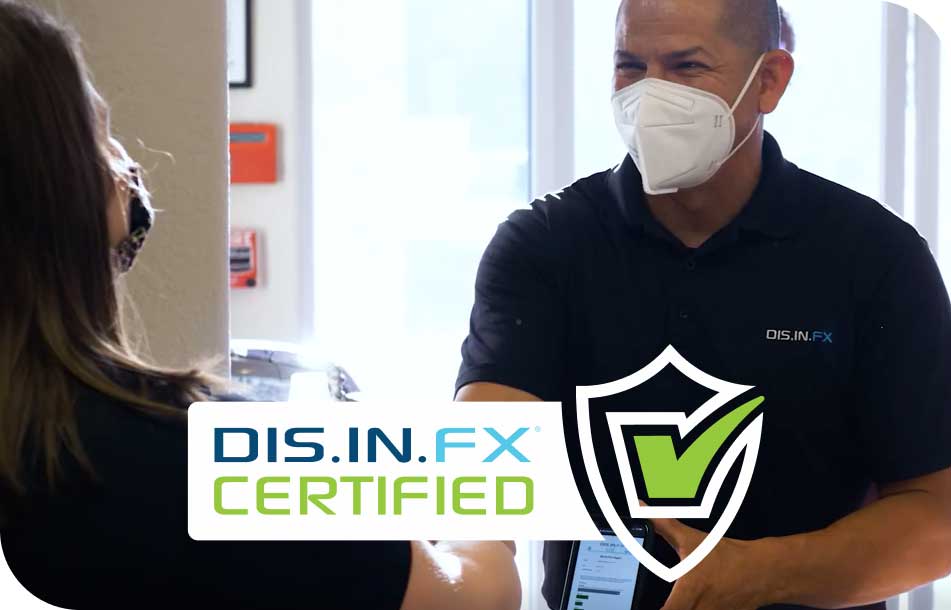 At DIS.IN.FX®, our mission is clear: to improve people's lives by ensuring they feel safer, healthier, and more comfortable through our unparalleled cleaning services. We back this commitment with a 100% guarantee that after our professional janitorial services, your facility will be:
Exceptionally clean
Far more comfortable
Significantly safer
Highly conducive to productivity
It's that simple; if we don't deliver on these promises, you won't pay for our service. With over a decade of experience, we started as a disinfection company, and that scientific precision is ingrained in our DNA. This unique background empowers us to offer a higher standard of cleanliness than your typical office cleaning provider. At DIS.IN.FX®, we redefine what it means to have a spotless and safe workspace.
Our Services
Office & Lobby Cleaning
Anywhere you and your team spend time, we take good care of
Disinfection Services
Certified disinfection services leave you, your team, and your customers feeling safer and healthier than ever before
Commercial Cleaning Services
DIS.IN.FX® is your one-stop shop for all commercial janitorial cleaning needs
Hard Wood & Hard Floor Cleaning
We help you get off on the right foot by cleaning all hard floors
Restroom Cleaning
We make restroom breaks a pleasant event
Window Cleaning
DIS.IN.FX® leaves windows sparkling
Carpet Cleaning
Keeping your carpets soft and clean
Water-Based Antimicrobials
All of our cleaning products are EPA-registered hospital-grade disinfectants that cleans, disinfect, and deodorize
WHAT MAKES DIS.IN.FX®
San Antonio's best professional janitorial cleaning service?
A legacy of cleanliness and expertise in San Antonio
For years, DIS.IN.FX® has been deeply ingrained in the fabric of San Antonio, solidifying our reputation as the go-to name for top-tier disinfection and janitorial services. Our roots in this vibrant city run deep, and our commitment to maintaining a clean and healthy environment has only grown stronger over the years. In a city that never sleeps, where productivity thrives, young minds are nurtured, and excitement resonates through sports arenas and entertainment venues, DIS.IN.FX® stands as the guardian of San Antonio's cleanliness. We understand the vital role that cleanliness plays in preserving this dynamic environment, ensuring that it remains a safe and welcoming place for people to work, learn, and play.
The "Germ Experts" deliver on customized cleaning
At DIS.IN.FX®, we've taken the label of "Germ Experts" to heart. It's more than just a catchy phrase; it's a reflection of our unwavering dedication to cleanliness and safety. We don't simply fit the mold of a standard janitorial service provider; we go above and beyond as comprehensive whole-facility disinfection experts, or as we like to call ourselves, DIS.IN.FX-perts. Our approach involves a close collaboration with each client to identify the most effective cleaning practices. These practices not only complement but also enhance or replace existing cleaning measures, resulting in an unparalleled level of cleanliness that sets new industry standards.
Unmatched excellence & partnering for a cleaner future
DIS.IN.FX® is on a mission to exceed your expectations consistently. Our meticulously crafted janitorial service packages aren't designed merely to meet industry cleaning standards; they're aimed at setting new benchmarks and redefining what it means to deliver exceptional janitorial services. We believe that going the extra mile is the norm, not the exception. Beyond our core services, we offer a comprehensive range of additional services, including carpet cleaning, floor stripping and waxing, and tile and grout cleaning. Your satisfaction is our utmost priority, and we're fully dedicated to delivering unmatched excellence in everything we do.
What makes the DIS.IN.FX®
Standard different than the rest?
Higher cleaning standards
Are you dissatisfied with your current cleaning company's performance? You're not alone. Many janitorial service providers in San Antonio simply go through the motions of cleaning without delivering the exceptional results you expect. DIS.IN.FX®, on the other hand, holds itself to a higher standard. We approach each cleaning task with meticulous attention to detail, as we treat every surface as if our reputation depended on it.
Clear & continual communication
Lack of communication can be a frustrating issue when dealing with cleaning services. With DIS.IN.FX®, you'll never experience such problems. Our commitment to your satisfaction includes assigning you a dedicated account manager. If you ever encounter an issue with our service, your account manager is just a call away, ready to resolve the matter promptly and professionally.
Trustworthiness of cleaning staff
Security and trust are paramount when allowing cleaning personnel into your facility. At DIS.IN.FX®, we take this concern seriously. Every member of our team undergoes rigorous vetting and training to ensure they treat your facility with the utmost care and respect. We don't rest on our laurels; continuous training and development are integral to our approach.
Customized cleaning plans
One size does not fit all when it comes to cleaning. DIS.IN.FX® specializes in crafting customized cleaning plans tailored to the unique needs of San Antonio businesses. We understand that operating hours and cleaning frequencies vary, so we make our teams available at times and intervals that align with your specific requirements.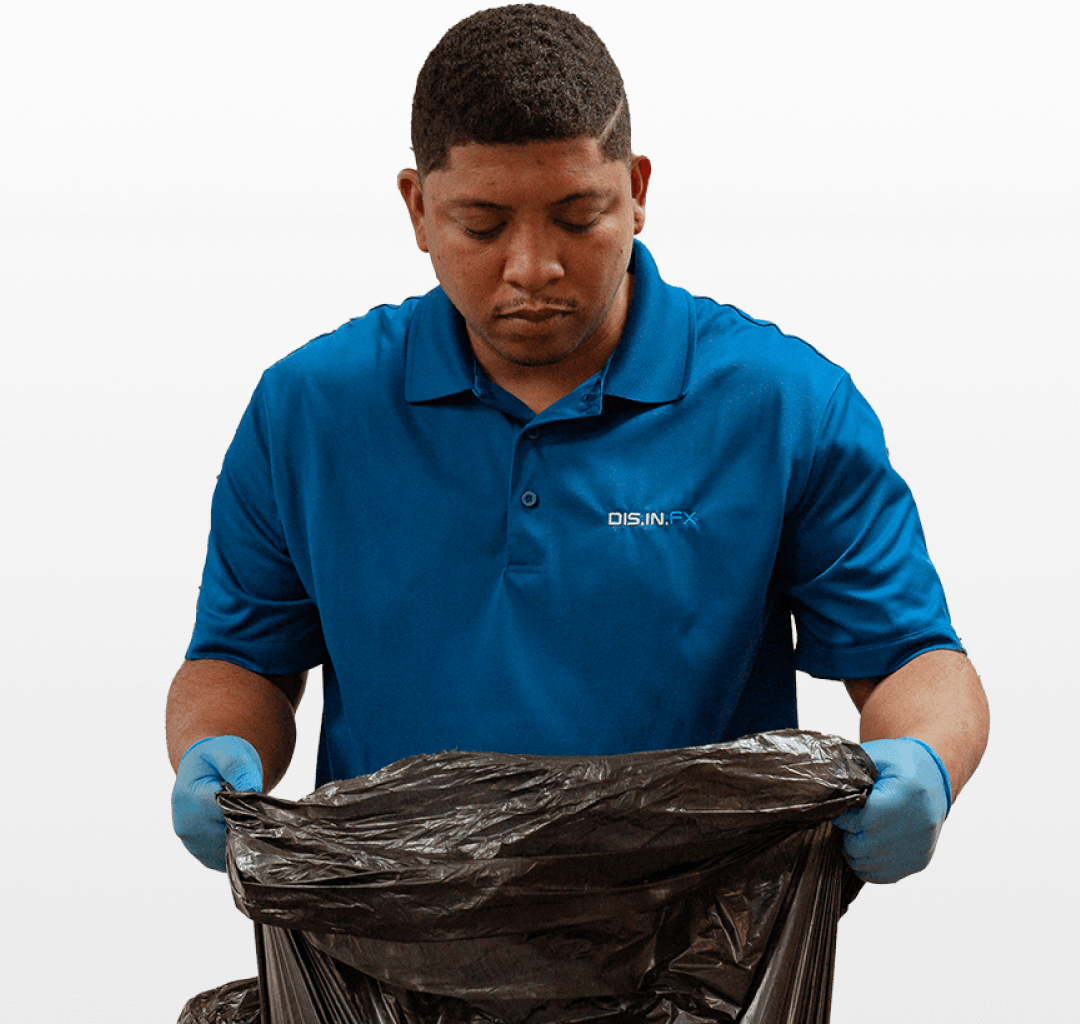 The secret to our customer loyalty?
The two words we hear most often from our loyal customers are: "professional" and "thorough."
We take pride in delivering five-star professional office cleaning solutions that keep business owners and operators coming back, year after year.
Our promise to our customers:
Your professional janitorial services team will arrive promptly and in professional attire.
We will treat your facility with the utmost respect throughout our service.
Our responsiveness to your needs is guaranteed before, during, and after your professional janitorial service.
If your facility doesn't meet your satisfaction, we will return, even before the next scheduled cleaning, to re-clean at no extra charge.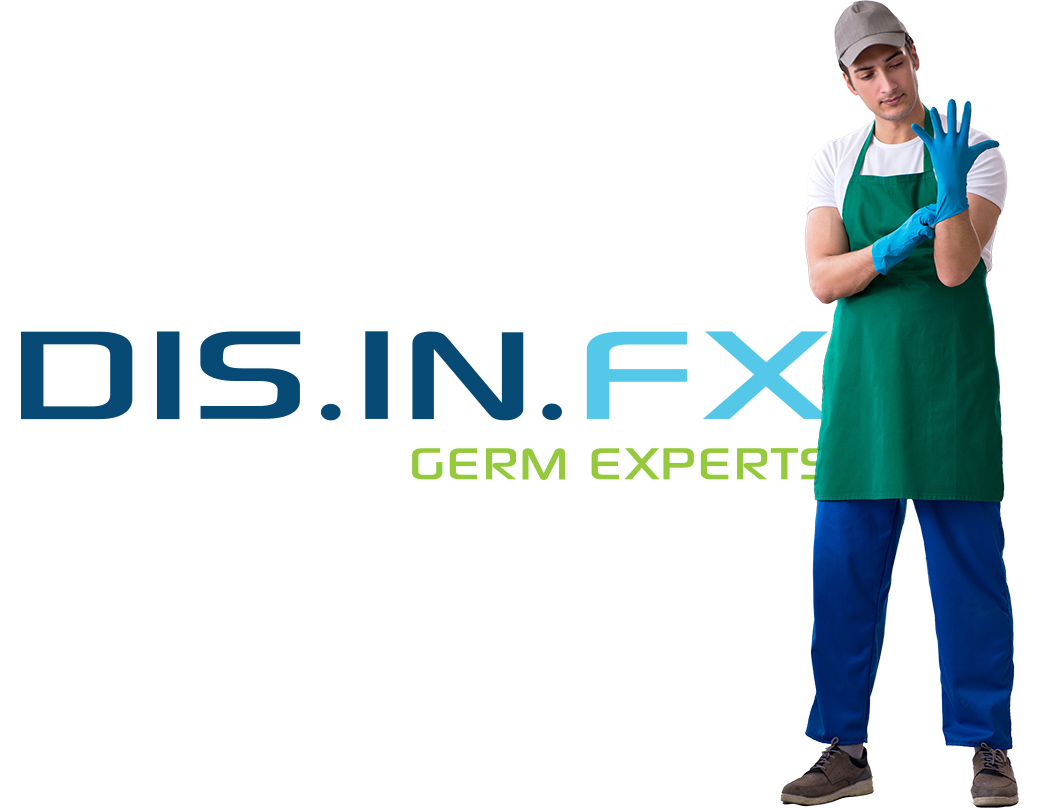 What happens next?
Give us a call, or contact us through our form. We'll get back to you, usually within 24 hours or 1 business day.
A DIS.IN.FX®-pert will walk you through a consultation where we learn more about your specific needs. This includes exact address of your business, square footage, cleaning frequency, etc.
We'll prepare a quote and establish a cleaning schedule.
Let the cleaning begin! You, your employees, and your customers will start to feel safer, healthier, and more comfortable in your workspace than ever before.
Meet the kings of janitorial
We have over a decade of experience serving the commercial janitorial cleaning needs of all kinds of businesses in and around the San Antonio area:
San Antonio
Boerne
Spring Branch
Helotes
Alamo Heights
New Braunfels
Bulverde
Leon Valley
Selma
Cibolo/Schertz
Converse
Grey Forest
And more
Reviews
Concordia Lutheran School
"Dis-In-FX service gives us the peace of mind that our children and members are safe."
"I love the peace of mind that DIS.IN.FX gives to my clients with their antimicrobial service."
"We have not had any skin infection issues since we started using DIS.IN.FX."
Little Treehouse Early Learning Center
"We haven't had any 'bugs' go through our facility. I truly believe it is because of our combined efforts."
San Antonio Commercial Cleaning & Janitorial Services FAQs
What janitorial services do DIS.IN.FX offer?
DIS.IN.FX offers a range of cleaning services, including dusting, vacuuming, mopping, window cleaning, restroom cleaning, trash removal, and more. DIS.IN.FX also offers specialized services, such as floor care, carpet cleaning, and pressure washing.
What is the DIS.IN.FX difference compared to other janitorial companies?
DFX includes ongoing surface treatments with EPA-approved disinfectants and regular surface testing with reporting. Often, this testing identifies neglected and high-risk of contamination areas in the facility. The DFX  program is included in all janitorial proposals to ensure our quality surpasses industry cleaning standards.
Can DIS.IN.FX provide services outside of regular business hours?
DIS.IN.FX offers flexible scheduling, including after-hours and weekend services, to minimize disruptions to your business operations.
What kind of cleaning products does DIS.IN.FX use?
DIS.IN.FX uses EPA-approved disinfectants. Other products may vary depending on the job type.
Can DIS.IN.FX provide their own cleaning equipment?
Yes, DIS.IN.FX will provide all necessary cleaning equipment and supplies, including vacuums, mops, and cleaning solutions.
What can we do to prepare for janitorial services?
DIS.IN.FX requires the removal of any clutter or personal items from the areas to be cleaned, as well as any valuable or sensitive documents. DIS.IN.FX may  provide further instructions with your custom proposal.
How often should I schedule janitorial services?
The frequency of janitorial services depends on the space size, facility type, and foot traffic level. As a standard, DIS.IN.FX offers daily services. Other frequencies may be available upon request.
Can DIS.IN.FX provide additional services, such as carpet cleaning or floor maintenance?
Yes, DIS.IN.FX offers additional services, such as carpet cleaning, floor stripping and waxing, and tile and grout cleaning. Be sure to ask about any other services you may require.
What should I do if I am not satisfied with the cleaning service?
If you are not satisfied with the cleaning service, contact your appointed supervisor or customer service immediately to discuss any issues or concerns. DIS.IN.FX offers a guarantee and will work to resolve any problems to your satisfaction.
Why choose DIS.IN.FX®?
Our Promise
Treat. Test. Certify.
You can't make a promise if you don't test your work. DIS.IN.FX® backs its services with scientifically verifiable testing. When you see the DIS.IN.FX® check, you can rest assured that environment has been treated and tested to the DIS.IN.FX® standard.
Clean it like we own it.
We take ownership of the work we do as if we lived in the spaces we clean. Doing so ensures a top-notch attention-to-detail that's unrivaled by anyone else in the business. We reinforce accountability and all of our crews take ownership of their work.
"Good enough" is never good enough.
We take pride in delivering a certified clean, every time. If we ever settled for less than our best, we wouldn't feel comfortable hanging the DIS.IN.FX® check on the wall when the job is done—because the job wouldn't actually 
be done.